In NBA 2K23 MyTEAM mode, badges are important consumables that can be applied to players. They help a player who has an exceptionally high rating in a certain area improve certain aspects of their game.

You can get badges by playing the game, opening packs, and buying at the Auction House with MT points (HoF badges are not tradable). But after getting badges, how to apply them to your players? If you are a new player, you are in the right place. In this guide, SSEVENN shows you how the badge system works in NBA 2K23 MyTEAM.
How to Apply Badges to Your Players
There are two ways to apply badges: Lineups Management and Miscellaneous Collections. You can upgrade badges in your "Lineups Management", choose the player you want the badge to be applied to, select "Edit Play", and then select "Apply/Upgrade Badges". You can also open your "Miscellaneous Collections", choose a badge you want to use, press "Apply to Player", and choose a player to which you wish to apply the badge.
The Number of Free Slots for Each Tier of Badges
Each tier of the player card can get a certain amount of badges, and the lower the card's tier is, the fewer extra slots it has:
Dark Matter tier – 8 free slots
Galaxy Opal tier – 6 free slots
Pink Diamond/Diamond tier – 5 free slots
Amethyst tier – 4 free slots
Ruby tier – 3 free slots
Sapphire tier – 2 free slots
Emerald tier – 1 free slot
Gold tier – no free slot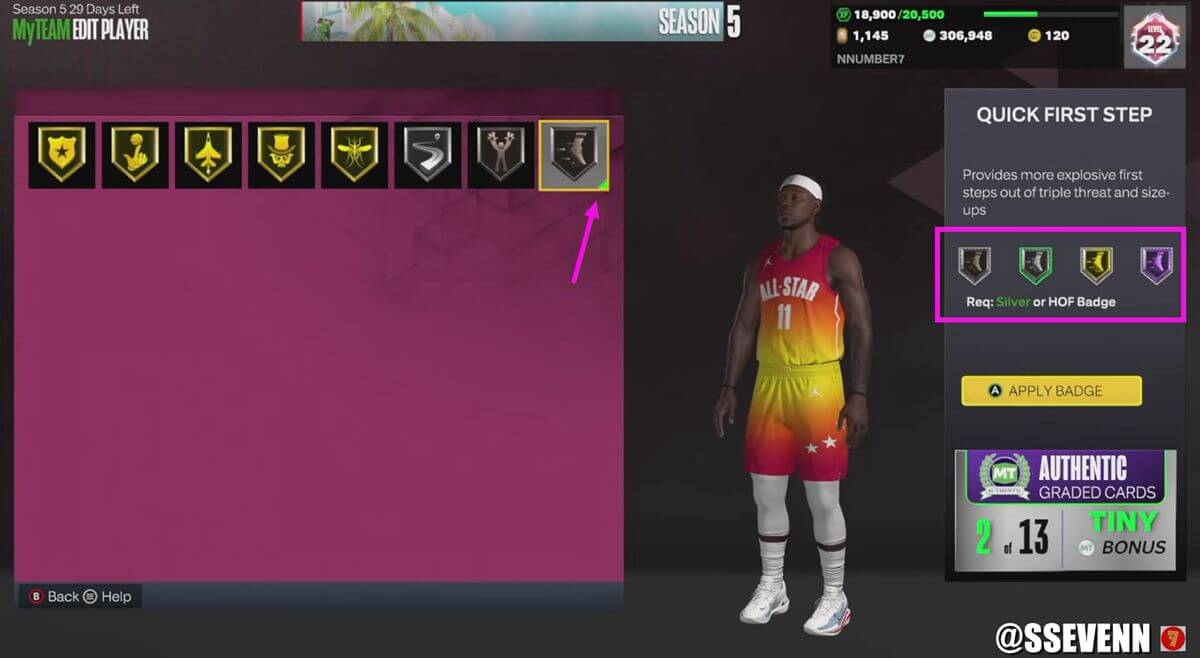 Applying a Badge to a Player in NBA 2K23


If a badge is upgradeable, it has a small green triangle in the bottom left corner. You will also see the information about which tier the badge can be upgraded to.
Go from Bronze to Gold, Unless You Have an HoF
Unless you have a Hall of Fame badge, you will have to upgrade a badge from the lowest level. It means that you can add a Bronze badge to an empty badge slot and then upgrade Bronze to Silver, Silver to Gold, and Gold to Hall of Fame (HoF). You can't just add a Silver badge to a player that doesn't have the Bronze, for example. However, if you have a Hall of Fame badge, you break the rule and apply it to an empty slot directly.
The Maximum Number of Each Type of Badge You Can Hold
Last but not least, you can hold up to 20 badges of one type in your Collection. Also, in NBA 2K23, you can't sell badges in stacks anymore.
That is how you can apply badges to players in MyTEAM of NBA 2K23. If you found this guide helpful, please Like the video and subscribe to SSEVENN's channel for more helpful future content.



YOU MAY ALSO LIKE:
Best Ways to Earn Tokens in NBA 2K23
How To Get VC in NBA 2K23 Without Spending Any Money
How To Earn MT Coins in NBA 2K23
---